Course Overview
The HubStudio is proud to welcome Actor, Director & Writer, Emma Jackson to Perth for a special 6 week on camera masterclass. 
The course will have a scene work focus; actors workshopping a scene each week with Emma providing constructive feedback on how to create presence on camera as well as nail your self tapes and auditions. She will guide, nurture and challenge your screen craft skills, giving you practical processes to apply before and during an audition, allowing greater freedom to be present in the scene and play.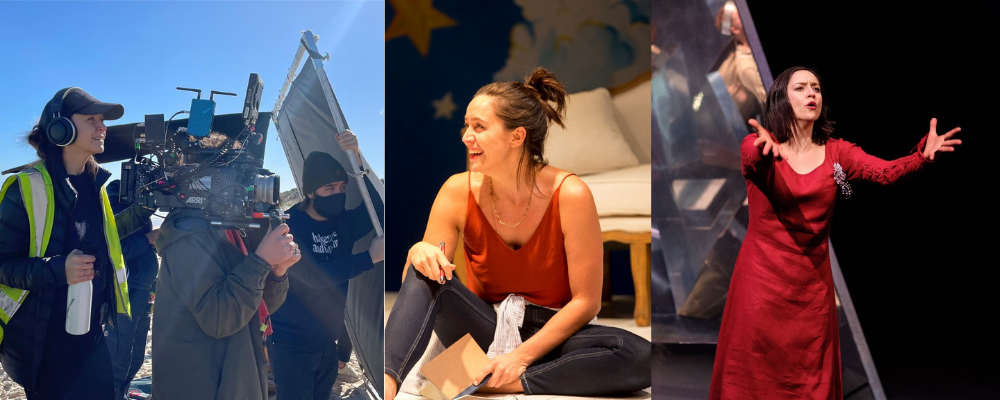 Course Outline
During the course Emma will focus on:
TV, film and commercial scripts for auditions.

Tips on Self Taping, in front of and behind the camera.

Processes to stay relaxed and present.

Being natural and truthful in the moment.

Bringing your whole self to your work.

Getting out of your head and into your body.

Being in the flow.

Freedom to play and have fun, creating the best impression on camera.
Course Outcomes
In this course, you will learn:
A simple process to feel more grounded and clear.

How to better prepare for a Screen audition.

How to connect with your scene partner.

How to be brave and make bold choices.

Access images, sensations and feelings.

The art of letting go.

Healthy mindset and self care.
For application, please fill out the details below.
Session Details
When: 6 x Thursday evenings
Dates: 21st April –  2nd June 2022 (Skipping week of the 5th May)
Time: 7pm – 10pm
Venue: Victoria Hall 179 High St, Fremantle WA  
Participants: 12-14 Maximum
Price: $372.00 incl GST
Payment Information
How To Pay & Instalment Option: The easiest way to pay is by Electronic Funds Transfer (EFT) using the bank details on the invoice (please quote the invoice number in the transfer information), or by simply clicking the 'pay online' link also on the invoice (bank fees apply). You will be email an invoice upon acceptance into the program. Payment is due no later than the due date stated on the invoice, however if you would like to pay in instalments please call or email the office to arrange the dates and amounts you will pay. Please note full payment of the course is due by the time the course finishes. You can start payment instalments at anytime upon receipt of the invoice.
About Emma Jackson
Emma is an actor, writer, director, teacher and storyteller for both stage and screen with over 20 years of professional experience. As a performer, Emma's career has spanned theatre, film and TV, both in Australia and internationally since her graduation from NIDA. She has performed across the country for all the major state theatre companies including Black Swan, Belvoir St, STC, QTC, MTC, SASTC, The Sydney Opera House and has been on countless Australian TV and film productions over the years, most recently playing Bree in How To Please a Woman, directed by Renee Webster, produced by Tania Chambers, and playing Inspector Rhonda Meeks in the upcoming SBS series True Colours, produced by Bunya Productions. Emma has built a career telling stories and her short film directorial debut, Deb, became a finalist at CinefestOz2020 for the Best Female Filmmakers Award. In 2021, Emma won the Excellence in Directing Award at the WA Screen Academy for her work on the short film Fine Bone China and The Best Documentary award for her doco Walk Run Strive which is about to screen at the WA Made Film Festival.
Apply For The Course
Please send an expression of interest including your C.V. to courses@thehubstudio.com.au or use the below form. Please note the course is by invitation only. If accepted we shall send out an application form with all the course information. Notification for acceptance will be made no later than one week before course commencement.
If offered your place will only be held once payment is received in full. Failure to do so will forfeit your place on the course. For more information or queries please don't hesitate to call on (02) 9212 0522 or alternatively email us on the above address.
Course Application Form
IMPORTANT INFO!! We are experiencing some unusual issues with our forms from time to time. If your form isn't sending through please email the same information, including your CV and Headshot via email to courses@thehubstudio.com.au and we'll get back to you asap. OR call 02 9212 0522.
Contact Us
For further questions or queries please contact us directly during 10am – 5pm / Monday – Friday on the below details:
Our office and studio is located across from Victoria Park and the Broadway Shopping Centre in Sydney's Chippendale. For best parking and travel options please click here.
Further Questions
The HubStudio prides itself on helping professional actors to facilitate their training journey. If you would like more information about this course, or more importantly which courses would suit you best, then please email or call us to discuss your training goals.