A six week online US accent and acting Masterclass with Gaby Santinelli.
Course Outline | Course Outcomes | Session Details | Apply Now
Course Overview
The Actor's Conundrum: The actor's primary job is to attach an emotional point of view to whatever the character says. But how can an actor do that when acting in another accent, if the accent goes out the window as soon as intention and emotion enter the arena?
The Coach's Solution: "The Inner Art of Acting American" is a deep dive into Accent Integration, the seamless blending of acting and accent. A proprietary blend of committing to the character's "emotional point of view" to inform WHY the line is phrased a certain way…and thus — how to use the accent as a springboard into that interpretation, rather than feeling powerless when the accent dismantles the acting. In short, Acting American will develop the actor's ability to create a full performance, with the accent embedded within the actor, resulting in a well-rounded, believable American Character (rather than a Cartoonish Caricature).
In Acting American, actors with work with award-winning American Acting & Accent Coach, Gaby Santinelli, who hails from New York, performed in the UK for 15 years, and currently resides in Los Angeles. Gaby coaches from her sympathetic perspective as a working actress and opera singer, bringing her extensive experience, from stage to screen to studio, to her work with fellow actors.
Actors who have studied and/or have worked in the American Accent previously, and who are ready (and willing!) to commit to their American Accent, will benefit most. Actors will be invited to go beyond the outer trappings of an accent, and will be challenged to dig deeply into The Inner Art of Acting American. As such, Actors are invited to commit to speaking in an American accent at all times during the course. This (potentially scary!) discipline quickly develops confidence, consistent accuracy and above all…stamina.
Course Outline
Over six weeks, actors will work with American Acting and Accent Coach Gaby Santinelli on assigned scenes, curated towards the filming of demo reels, agent auditions and/or workshops.
Scenes will:
highlight topics essential to confident Accent Integration

be a casting "fit" for each actor's individual niche, in order to…

provide a crackling 'showcase' scene, suitable for filming, as a proof of concept in the American Accent.
Actors will:
review and hone The Three Ps: Pronunciation, Phrasing and Placement (*emphasizing challenging sounds for Australians)

examine a character's speech patterns, as specific to American cultural sensibilities

pinpoint hot topics unique to an American's POV: getting into the American mindset, in order to voice lines "the way an American would say it", all the while not losing the actor's authentic core sense of self
Course Outcomes
Actors will be able to:
Choose distinctly American Pronunciations and Speech Patterns, from the get-go (intention and heightened emotion will no longer disrupt the accent), in order to confidently dig into intention and emotion in an American way.

Convert "well-made, grammatically correct sentences" into a character's Spoken Thoughts and Feelings (*especially when potentially encountering A.I. screenwriting!)

Speak American Beyond the Scripted Text, by Developing and Committing to "Your American You" (specifically targeted for informal chit-chat in auditions/on set, and/or audition slates)
Course Testimonials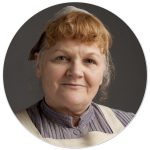 LESLIE NICOL 
"'I've had the most brilliant time working with Gaby since we started in 2016. Specifically, I got an audition for a Coen Bros movie (no pressure!) and they asked for a period American accent?!! I had no idea! So, not only did she teach me that — but she sourced a number of film clips for me to see, to put this whole thing into context. Then she recorded the self-tape with me, as well. So the result of this was, while I didn't actually book that particular job, I am pleased to say the feedback was very positive — and they particularly mentioned the accent. So yes — this lady is excellent and very special."
London and Los Angeles: Mrs Patmore on Downton Abbey, The Catch, East Is East.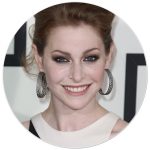 ESME BIANCO 
"

Gaby is a godsend! Working with her has helped me immensely in finding my authentic American 'voice'. Our sessions are fun, instinctive, and her experience as an actress and acting coach adds an invaluable extra dimension when working on audition material. I come out of our sessions with the confidence that, not only is my accent accurate, but that it is my true voice as an actress and as the character I am creating.

"
London & Los Angeles: Ros on Game Of Thrones, The Magicians, Any Human Heart, Eric and Ernie, The Big I Am, Scorpion King 4: Quest for Power, Christmas Mystery, Ominous
WILL KEMP 
"

I've been lucky enough to work with Gaby, whether it be for an audition, preparation for a role or simply to practice her infallible approach to deepening the understanding of a scene, since 2007. With the added advantage of American Accent and insightful Acting coaching, her fun-filled, tried and tested approach to the work is a god-send.

"
London & Los Angeles: Lord Darnley on Reign, Girlfriends' Guide To Divorce, Code Black, Royal Matchmaker, Petals on the Wind, Kristin's Christmas Past, The Great Fire, The Prisoner, Step Up 2: The Streets, Van Helsing, Scorpion King: The Lost Throne, 'The Swan' in Matthew Bourne's Swan Lake
Session Dates
When: 6 x Sundays
Dates: 4th November – 9th December 2023
Time: 10am – 1pm AEDT
Format: Online
Participants: 12 Actors maximum 
Price: $594.00 incl GST 
Payment Information
How To Pay & Instalment Option: The easiest way to pay is by Electronic Funds Transfer (EFT) using the bank details on the invoice (please quote the invoice number in the transfer information), or by simply clicking the 'pay online' link also on the invoice (bank fees apply). You will be email an invoice upon acceptance into the program. Payment is due no later than the due date stated on the invoice, however if you would like to pay in instalments please call or email the office to arrange the dates and amounts you will pay. Please note full payment of the course is due by the time the course finishes. You can start payment instalments at anytime upon receipt of the invoice.
About Gabby Santinelli
Gaby Santinelli is an award-winning actress, singer and coach. Having won a Best Supporting Performance Olivier Award for the world première of Jerry Springer The Opera (National Theatre & West End; original cast album), she also coached Australia's Danielle Macdonald and Britain's Ashley Thomas on director Guy Nattiv's Oscar-Winning film, SKIN.
Gaby has directed theatre and opera, including Mamet's Edmond (starring Kathryn Hahn as Glenna), Friel's Lover-Winners, Menotti's The Telephone, original stage adaptations of James Joyce's Araby and Eveline, and a new translation of Strindberg's Lady Julia.
Stage appearances include Carlotta in The Phantom Of The Opera (UK National Company), numerous Gilbert & Sullivan roles with The D'Oyly Carte Opera Company (West End), Robert Wilson and Tom Waits' The Black Rider (world tour incl. Sydney Festival), Mozart's The Abduction From The Seraglio (Covent Garden), Don Giovanni and Le Nozze di Figaro at Highclere Castle (aka "Downton Abbey").
Additional Roles: Masha Three Sisters, Jennifer Do I Hear A Waltz?, Jenny in Sondheim's Company, Sandra/Sue The Exonerated (London); Lady Chiltern An Ideal Husband (LA); world premieres of The Last Pilgrim (London) and Freud, Dora and the Wolfman (Chicago). Film: Losing Isaiah, A Summer In Genoa, The Bloodhound, Dog Lover and Red One (2024).
In the UK & Ireland, Gaby acted in/voiced TV & Radio commercials for Big Al's Burgers, Airwick, Tommy Hilfiger, DKNY, GHD Hair. She is the singing-narrator for Pingu's Adventures in English (Series 1-4), and has voiced film & TV ADR for loop groups in the UK and US.
Gaby's many feature film soundtracks in London and LA include Star Wars III, Harry Potter III and VII Pt 2, Mulan, plus Oscar Winners The Lord of the Rings Trilogy, and La La Land.
An acting & accent coach since 2003, Gaby joined the Performance Faculty at the University of Southern California's School of Dramatic Arts in 2017, where she specializes in Voiceover, Camera & Improvisation, and Screen Acting. She has also taught at The Actors' Temple and the salon: collective (London), and SAG-AFTRA Conservatory (LA).
Coaching clients include Oscar-Winning Actor-Producer Jaime Ray Newman (The Kinship), Downton Abbey's Joanne Froggatt and Lesley Nicol, Neighbours' Ashleigh Brewer, Hollyoaks' Charlie Clapham, Emma Laird Craig (The Crown), Kristian Ventura (School Spirits), Esme Lonsdale (Arthur's Whisky), Stacey Roca (Mindhunter, Bull), Bonnie Soper as Princess Diana (Harry & Meghan: Escaping The Palace), Sohm Kapila (The Morning Show, A.P. Bio, General Hospital, S.W.A.T.), Sibongile Mlambo (Teen Wolf), Kristin Carey (The Greatest Beer Run Ever), Robert Hobbs (The Mauritanian), to name a few. Gaby has coached British ballet star Will Kemp on his screen acting performances since 2007, including Reign, Spinning Out, Christmas Waltz, The Dancing Detective, Doom Patrol, and El Turco.
Gaby has directed theatre and opera, including Mamet's Edmond, Friel's Lover-Winners, Menotti's The Telephone, original stage adaptations of James Joyce's Araby and Eveline, and a new translation of Strindberg's Lady Julia.
A Theatre Alumna of Interlochen Arts Academy and Northwestern University (School of Speech), Gaby holds a Master of Music Degree in Voice Performance from Mannes School of Music (NYC).
Additional acting training with W.H. Macy and David Mamet at The Atlantic Theatre Company's Practical Aesthetic Workshop and Apprenticeship (Vermont), Advanced Meisner Technique in London and at Meisner's home in Bequia (Caribbean), and Comedy/Improv with Upright Citizens' Brigade, The 2nd City, and Lesly Kahn (LA).
Apply For The Course
Please send an expression of interest including any specific acting information such as a Biography, Cover Letter, C.V. & Headshot to courses@thehubstudio.com.au or use the below form. Please note the course is by invitation only. If accepted we shall send out an application form with all the course information. Notification for acceptance will be made no later than one week before course commencement.
If offered your place will only be held once payment is received in full. Failure to do so will forfeit your place on the course. For more information or queries please don't hesitate to call on (02) 9212 0522 or alternatively email us on the above address. 
Course Application Form
IMPORTANT INFO!! We are experiencing some unusual issues with our forms from time to time. If your form isn't sending through please email the same information, including your CV and Headshot via email to courses@thehubstudio.com.au and we'll get back to you asap. OR call 02 9212 0522.
Contact Us
For further questions or queries please contact us directly during 10am – 5pm / Monday – Friday on the below details:
Our office and studio is located across from Victoria Park and the Broadway Shopping Centre in Sydney's Chippendale. For best parking and travel options please click here.
Further Questions
The HubStudio prides itself on helping professional actors to facilitate their training journey. If you would like more information about this course, or more importantly which courses would suit you best, then please email or call us to discuss your training goals.