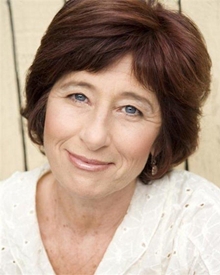 10 Questions With…..Lyn Pierse
1. When you were 6 years old what did you want to be when you grew up?
I don't know what I wanted to be when I was 6. I loved singing and I wanted everyone to burst into song and sing in spontaneous, perfect 3 part harmony and know how to all dance the same steps in perfect formation, just as they did in the movies. I couldn't figure out why this didn't happen in real life. Why didn't everyone know the same song and dance as me? They did in the movies. By 7 or 8 I started forming people into groups and teaching them games and songs. Now that's embarrassing.
2. What's inspiring you at the moment?
The discussion on ' free speech' and the meaning of 'free speech'. It's an important issue currently facing Australians. When one person's 'free speech' results in another person's 'insult', a nation needs to talk.
3. Favourite play and/or film?
Favourite play 'Macbeth.' Favourite film 'Apocalypse Now'.
4. Describe your acting style.
Somewhere between too much and way too much. It's a constant challenge to reach the image I can feel, hear and see. It's as if I'm looking of slab of ice searching for the shape, cut it out, then hang on to it and let it live before it melts. Strangely for someone who has spent their life improvising, on script I like to know what I'm doing and find a way to repeat and stay consistent without getting into a rut or jumping ahead. I spend all the time digging, searching, then tossing away and hopefully retaining the relevant choices. This seems to happen in layers and I hope the relevant simple choices rise to the top and remain. They are usually the most obvious and you wondered how you could be so dumb to miss them in the first place. I tend to take the long way round. Im a slow learner. Some ideas come very quickly. Others are a long search. I enjoy rehearsal and the freedom of discovery and play during rehearsal. As soon as it's in performance, I like it to stay on track.
5. Has there been a time when you've had a shocking day and had to perform that night? If so, how did you get through it?
There was a time in the late 80's when my life was a bit of a mess. I was doing a lot of standup and theatre. The sadder I was in real life, the funnier and braver I became on stage. Writing and performing became a funnel for the sadness. The sadness allowed me to see life through a different lense and performing numbed the pain. Under normal circumstances of a simple ' bad day,' a good ritual warm up is a sure pathway back to the 'here and now' for performance. The warm up is important to me and I'm pretty consistent and superstitious about it.
6. When filming, what do you do between takes?
Worry. NO! Depends on the gig. There are various ways to stay focussed and hopefully enjoy yourself without too much pressure between takes. It's a weird time the, 'between takes. ' And there's an art to using it well. As a guest it depends how friendly the environment is. On a familiar relaxed set, depending on the scene and the other actor, it's lovely to have the freedom to stay as playful and unhasstled as possible between takes. Listen to the director and think through the adjustments required. Listen to what's relevant and filter the stuff that isn't your problem.
Filming a TVC is usually pretty strained with the client breathing down the director's neck and everyone huddled around a monitor and racing towards you between takes. On 'Going Home' improvising together for so long we would usually and very often roar with laughter between takes. There was no pressure to get it right- – AH the freedom of Impro! It's vital to stay focussed and each gig requires a different process to obtain that.
7. What are you watching at the moment?
A lot of British television. Hoping to finally catch Moonlight this weekend and Jasper Jones. I'm also looking at standup on youtube.
8. Which role has been your favourite and why?
Ive loved almost every part and production Ive been in and at the time it is my favourite. 'Mum' and the 'Sphinx' in Berkhoff's Greek was pretty extraordinary. The poetry is brilliant and the production was excellent. At the time it was ground breaking material and a new, ground breaking, specific theatrical style which was thrilling to be a part of. I loved standing backstage and listening it. The images are brilliant,. It's modern Shakespeare. And it was confronting to do. I loved , ' The Importance of Being Earnest." Every night I marvelled at the text. I could listen to it forever. Hearing the Three Sisters every night was a joy. That writing, those characters are glorious. Improvising on "Going Home" while it was a long and exhausting job, it was remarkable work and to be a part of ground breaking television and have such a free hand to invent and play, was a gift. Robyn Archer's musical 'The Conquests of Carmen Miranda' was a production that thrilled me politically. I felt very proud to be a part of that cast and of course the material in the hands of Neil Armfield and Alan John was really something. But the highlight would have to be Nick Enright's "Summer Rain", written for our year, and having a specific character and song written for me. What a gift! What joy! I loved the cast and at the time life was full of promise.
9. Has there been an acting experience/ a role that has taught you something significant about life?
Sr Mary Leonard taught me a lot about myself and the audience. There were some nights when I bit the dust but there were others that were beyond magic. "Write It Down And Down Forget It' taught me the purity and simplicity of the comic moment and how fragile the audience really is. We think the audience is robust and indestructible. They laugh and they cry, but I discovered they are able to be bullied and were often very scared. They were often more scared of me than I was of them. And that's a great thing to learn. I now realise that's how I felt when I saw Joan Rivers and Barry Humphries. I was laughing but I was scared they'd see me. That's a scary moment when you realise you can do that too. It's a fleeting power that doesn't last long and you have to use it for good, or it bites you pretty quickly and then disappears. That's a life lesson.
10. Do you have a favourite quote from an actor/director/coach?
Ive got a couple. 
The words of Nick Enright often come to me, " Always do what's best for your talent!" Keith Bain's words of wisdom , "Turn your headlights on lights, lift from under neath, and let it sit on the air. The movement goes on and on." I often feel his hands straightening my spine and adjusting my shoulders, God love him. KJ's insistence on punctuation is pretty sound and sturdy daily advice. Betty Williams screaming, "Breathe!!!" And just yesterday, walking into a screen test, Terry Clarke's , "May the force NOT be with you!"
Lyn Pierse is a successful actor and acting coach. She currently runs the Improvisation For Professional Actors at The HubStudio. For full course details please click the button below.