Alexander Technique for Actors
Series 11

An eight week movement series, as an introduction to the Alexander Technique
Teacher: Mary Cerny
This course is a must for all those actors wanting to learn more about how to use their bodies both in performance and life in general. The Alexander technique teaches people how to stop using unnecessary levels of muscular and mental tension during their everyday activities, thereby laying a foundation of freedom and ease that will translate into your performance. It is an educational process rather than a relaxation technique or form of exercise.
Your body is fundamental, and so often highly ignored. This course will teach you how to use it properly, and to your absolute advantage!!
The course is a fully comprehensive eight week movement class, aimed at freeing the body, allowing greater access and expression. The course will use both physical and text work to engage directly with the craft of acting and how it relates to movement within the body covering; tension, release, personal expression and physicalisation.
About Mary Cerny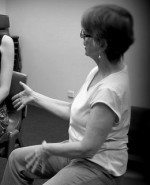 Mary Cerny danced professionally for many years with a modern dance company in the United States. She has performed solo work and taught movement throughout the U.S.A., England and Australia. While training for three years in London at the ATA Centre, she collaborated with musicians on performance pieces, led Movement workshops and was Guest Artist in Residence with the Midlands Dance Company. In 1985 Mary immigrated to Australia and has been engaged in many facets of the arts community since. She has regularly conducted teacher training at various Alexander Teacher Training Schools and she currently runs a private practice in Sydney as well as working at the National Institute Of Dramatic Arts (NIDA).

Session Details

Session Details

When: 8 x Thursdays

Dates: 9th July – 27th August 2015

Cost: $395.00

Time: 7pm – 10pm

Venue: 18 City Rd, Chippendale, NSW 2008

Participants: 12

How to Apply

Please send an expression of interest including your C.V. to courses@thehubstudio.com.au or use the below form. Please note the course is by invitation only. If accepted we shall send out an application form with all the course information. Notification for acceptance will be made no later than one week before course commencement.

If offered your place will only be held once payment is received in full. Failure to do so will forfeit your place on the course.

For more information or queries please don't hesitate to call on (02) 9212 0522 or alternatively email us on the above address.