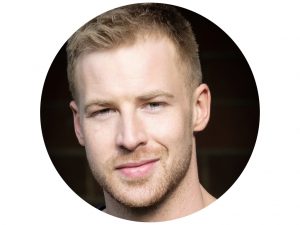 Angus McLaren 
Biography
Angus McLaren has worked consistently as an actor and performer since the age of 12. He is perhaps best known for his role as Nathan Rafter on Seven Network's hit show ​Packed to the Rafters f​ rom 2008 – 2013 and earlier as Lewis McCartney in ​H20: Just Add Water​. Angus has also appeared in some of Australia's most popular television programs such as ​Neighbours​, Blue Heelers, All Saints​, as well as a lead role in the popular ABC program ​Silver Sun​.
In 2014 Angus was accepted into The Western Australian Academy of Performing Arts (WAAPA) to fulfil a desire to expand his knowledge, range, and experience. Finding his time at the Academy invaluable, he played the title role in William Shakespeare's ​Coriolanus ​which toured to the Hydra Festival in Greece and a lead role in ​Tender Napalm​, touring to Singapore.
In his final year at WAAPA, Angus won the Channel Nine Best Actor Award at the WA Screen Academy Awards for his role in the short film ​Quartermaine​.
Upon graduating he joined the cast of Channel Nine's popular series ​Doctor Doctor ​as Dr. Toke opposite Roger Corser; played the role of Pat in the web-series ​600 Bottles of Wine (BBC and Channel 10)​, Lance Salisbury in ​Home and Away (Ch 7),​ Sam in the WA set short film ​Crumbs and guests roles in the series Bloom (Stan) and the mockumentary comedy series ​These New South Whales (Comedy Central)
Angus also wrote his debut one-man show titled ​Mr. X – DEDTALKS ​and performed it at various venues including The Hills Are Alive Music and Comedy Festival in Victoria.
Angus will next be seen in the highly anticipated feature film, ​Hotel Mumbai ​alongside Dev Patel and Armie Hammer, the Aussie comedy, ​The Merger w​ith Kate Mulvany and John Howard, and the lead role of Jake in the romantic comedy film ​The Naked Wanderer ​alongside screen legend, John Cleese (Monty Python, Faulty Towers)