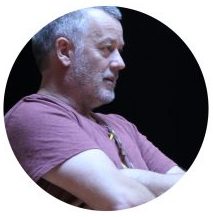 Andrew Lloyde
Biography
Graduating from NIDA as an actor, Andrew's career has spanned 30+ years: designing, managing and delivering training in some of Australia's most notable performing arts organisations:
Head of the Full Time Programme: Actors Centre Australia,

Head of Acting: Western Australian Academy of Performing Arts (WAAPA)

Course Coordinator: The National Institute of Dramatic Arts (NIDA) Open Programme, co-founding the NIDA Young Actors Studio.
Andrew has also taught acting with Faith Martin and Associates (Casting Consultant): Bathurst University, Actors College of Theatre and Television (ACTT), The Australian Theatre for Young People (ATYP), WAAPA Musical Theatre, National Aboriginal and Islander Skills Development Association (NAISDA), and the Conservatorium of Music.
Acting credits
Screen: miniseries: Cowra Breakout, The Last Bastion, Vietnam, Tracy and tele-movie: Gordon Bennett. Television included: Home & Away, Murder Call, E Street, G.P, Rafferty's Rules, Sons & Daughters
Theatre: MacBeth: Royal Queensland Theatre Company; Wind in the Willows: Botanical Gardens; Woyzek & Man and Superman: Sydney University English Department: Man and Superman; Mr Whippy: Griffin Theatre, Dags: Toe Truck Theatre Company
Directing credits
WAAPA : Road, Buried Child, The Season of Sarsaparilla, Capricornia, Masterpieces and Devised: Détente; Charles Sturt University: Devised: Fear in Your Ear; Stables Theatre: Fando and Lis; The Edge Theatre: Look Back in Anger; Actors Centre Australia: A Mid Summer Night's Dream, The Cherry Orchard, Australian Scene work, Russian Theatre, American Theatre Unit & a number of Devised productions; Community Theatre Arts: Confusions, Big and Little and self-devised: Abreath, Voices in the Mirror, My Child, What's in the Bag for Christmas.
These experiences have afforded Andrew the opportunity to uniquely fuse a combination of acting processes and performance psychology techniques that combine the craft of acting with "getting the best" out of the performer. It could be said that this has formed a unique methodology that has been passed onto many hundreds of actors throughout Australia.
Andrew has a rare gift for generating inspiration without hype. His belief in people's potential is 100% genuine, and his ability to guide and empower them to unlock that potential is second to none. He is a refreshing burst of authority, honesty and integrity.
Dr. Steven Vidler- Screen Writer, Film Director, Lecturer: AFTRS