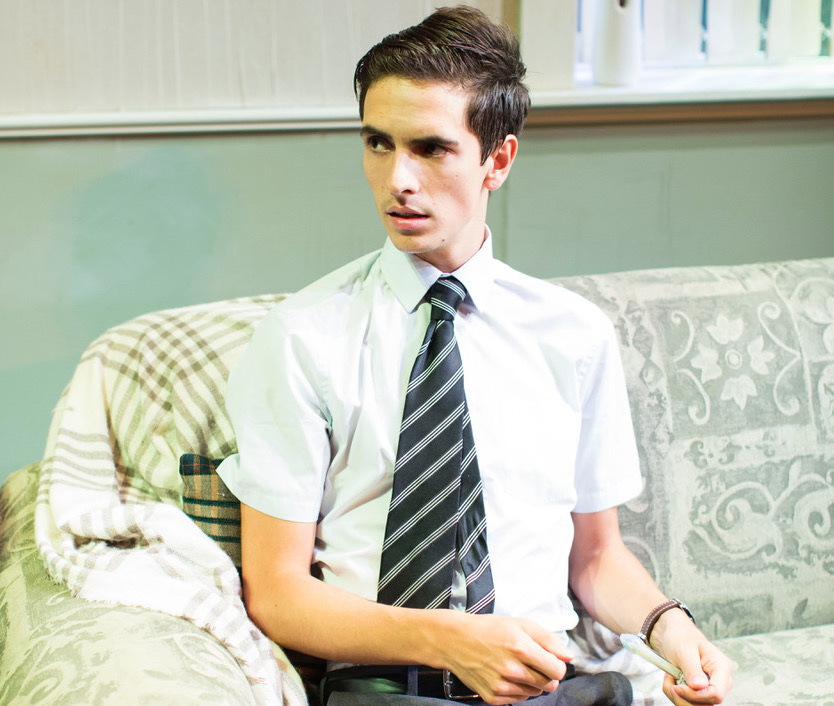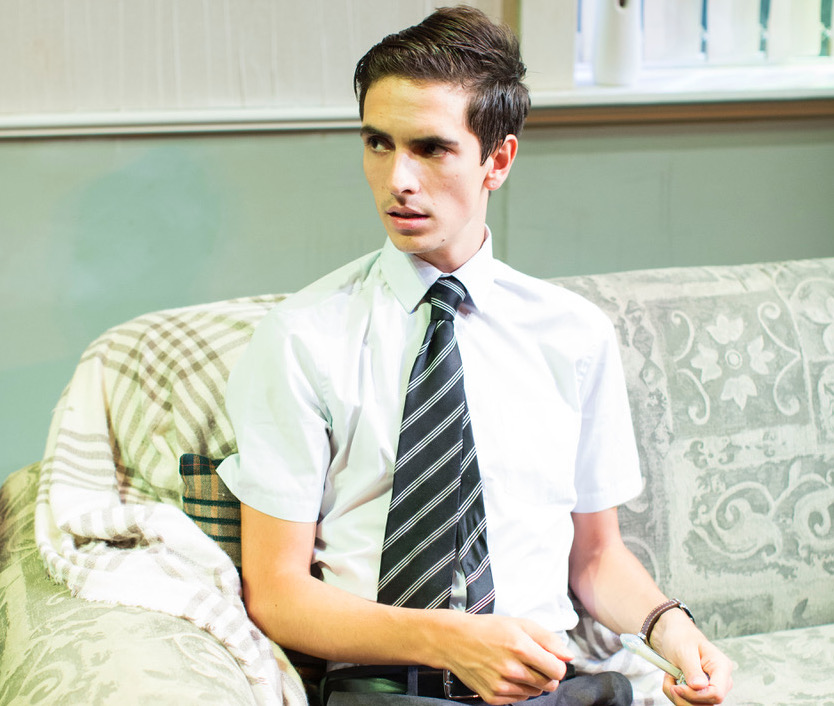 Alex Beauman as Elder Thomas in The Whale
1. Tell us a bit about your new film you're working on.
I wrote a short film called Staying The Night. It looks at the fear that surrounds coming out, and how damaging lying to yourself and others can be. I approached Hustle Productions (creators of the award winning web series A Shared House), and they jumped on board and helped me bring the film to life. We were really lucky to get so many amazing artists, like our director, sound designer, editors and actors, offering their time and services freely, and the final product is something we're all super proud of. The film is currently doing the festival circuit, so fingers crossed it gets as many eyes on it as possible.
2. Tell us 

about

 your role in 

'

You Got Older

'

 at the Kings Cross Theatre. 
I play Matthew Hardy, who is the middle brother to the protagonist, Mae (played by the incomparable Harriet Gordon-Anderson). Matthew's got a sharp tongue, which I think he uses to hide the fact that he's pretty lost and scared. He arrives about midway through the play, in a glorious scene in a hospital room with the rest of his family. I'm having a blast, and feel so lucky to get to work on beautiful writing with a bunch of absolute legends. Don't miss this one people. It's gonna be good.
3. What has been your favourite project in your career so far?
Gaaah! That's hard to answer! I lost my Sydney stage virginity at The Griffin doing 'On the Shore of the Wide World', playing Christopher, a quirky kid obsessed with Google search statistics. That show will always have a special place in my heart. Other than that, in 2016I did a play at the Old Fitz called 'The Whale' directed by the ridiculously talented Shane Anthony. I got to play a Mormon missionary gone rogue who tries to convert a morbidly obese gay man. That was a whole heap of really challenging but fascinating work. I interviewed two real-life missionaries with one of my cast mates and was able to use the stories they told to dive deeper into the psyche of my character. I think we did something right, as myself along with many others in the team were nominated for and won Sydney Theatre Awards.
4. Which project challenged you the most or did you learn form the most?
My first TV gig definitely pushed and challenged me in ways I wasn't quite prepared for. I was nineteen, and throughout my teens I'd almost exclusively worked in the theatre. All of a sudden I had a recurring role on this ABC mini series called Hiding. I was pretty terrified on the first few shoot days, but had to quickly learn not to get in my head. I'm a sucker for overthinking. But there's nothing like being on a television set to make you realise that as actors, we are just tiny little cogs in a very complicated machine with many moving parts. Know your lines, be specific, and hit your mark. 
5. If you could give our Hubsters one piece of advice what would it be?
The thing I'm trying to remind myself all the time is to not take failure so seriously. I have a tendency to beat myself up when I feel like I've failed (as do many of us), and this is a direct blockage to taking creative risks. So be kind to yourselves Hubsters! Also, meditation is something I discovered last year and it has been a game changer for performance nerves. Download Headspace on your phone if you want an introduction to meditation. And then if you become obsessed like me, commit yourself to a longer mediation course.
6. Tell us about your time / association with The Hub and how you think it has impacted you professionally.
I've been doing courses at the Hub for the past three years and it's a glorious, safe space in which professional actors can mingle and learn from those at the top of their game. I've met some wonderful actors, and mentors at the Hub who I continue to work with. I did Anthony Skuse's Masterclass last year which was fabulous. He directed me in On the Shore of the Wide World, so it was lovely to get to work with him in a different context.
7. Do you have aspirations for a particular project or a 'dream role'?
I'd love to write a play and have it put on somewhere, that would be wicked. I think that would be pretty wicked. Also, I really, reeeeeaalllly want to do some Shakespeare soon. If I ever got to play Hamlet I could die happy.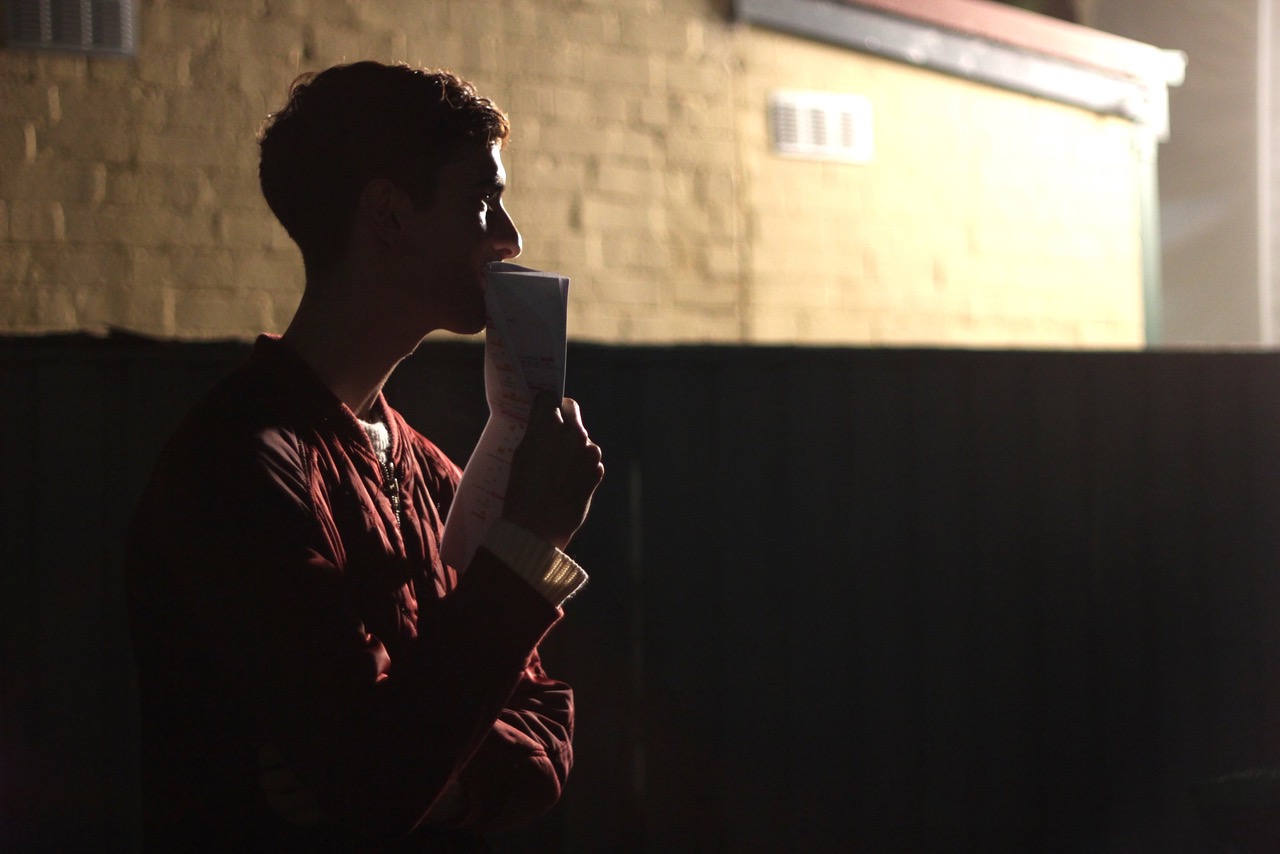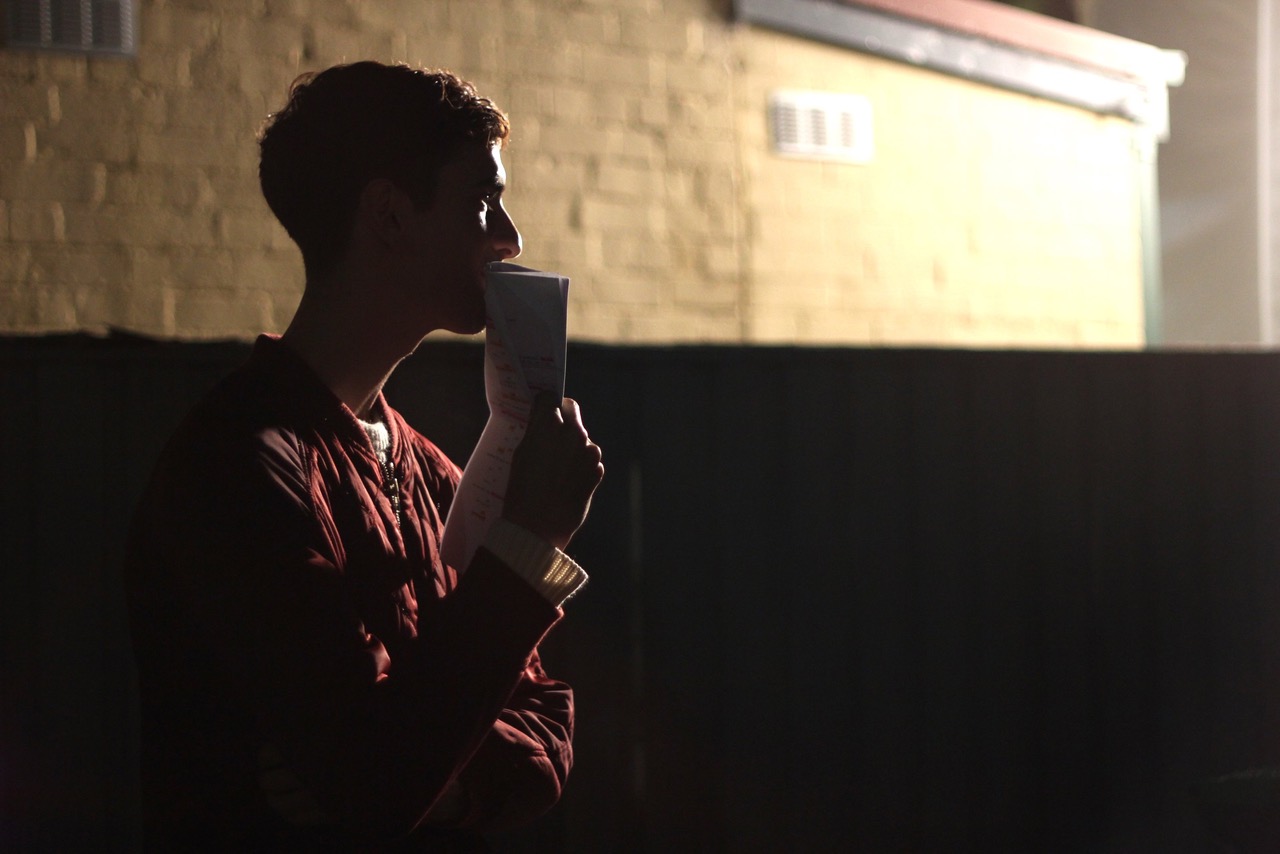 Alex Beauman on the set of Staying The Night
Sydney Theatre Award Nominee 2017 – Best Supporting Actor, 'The Whale'