Hub|X  –  Industry Talks for Actors
In Conversation with Kevin Jackson: Australia's leading acting coach.

FRIDAY 21st September /  7 – 9pm
Fremantle Old Boys School – 92 Adelaide St, Fremantle WA 6160 / $15.00 + BF
Join Kevin Jackson in conversation for our first Hub X Perth, as Kevin gives the 'inside information' about his stella career as an acting coach and educator to Australia's leading talent; including Cate Blanchett, Sam Worthington, Jess Marais, Yael Stone, Sarah Snook, Baz Luhrmann, Richard Roxburgh, Joel Jackson and many more.
For more than 30 years Kevin has been training actors at the highest levels. His insight into the craft of acting is second to none. If you want to understand what defines a professional Australian actor on the world stage, Kevin of anyone has the answers. He was there when a young Cate Blanchett walked through the doors as Head Of Acting at NIDA (National Institute of Dramatic Arts) helping her to become one of the greatest actors in the world, and for years Kevin was there for many more; auditioning over 2,500 young hopefuls each year, as well as working outside as a both an actor and director. A life lived in the arts, Kevin is considered a national treasure for so many of today's performers. If you have an interest in the craft, and want to learn the fundamentals of great acting, then our first ever Hub X Perth is a fantastic opportunity to meet the man behind so many of today's great performers.
The key note talk will have an interactive Q&A at the end, allowing Actors to ask more specific questions about the topic. 
ABOUT KEVIN JACKSON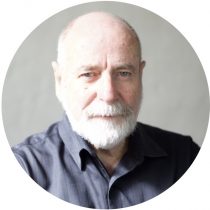 Kevin Jackson is one of the country's most experienced acting teachers. In 2011 he retired from the National Institute of Dramatic Arts (NIDA) after more than twenty years service to the school, and in the process trained some of the most prominent and emerging actors in the industry today. For more than fourteen years Kevin also taught at the American Conservatory Theatre (ACT) in San Francisco, and more recently at The Actors Center in Sydney and now at The HubStudio. Graduates Kevin has taught during his time at NIDA include, Baz Luhrmann, Richard Roxburgh, Jacqueline McKenzie, Miranda Otto, Cate Blanchett, Essie Davis, Nicholas Bishop & Sam Worthington.
BOOK TICKETS HERE
A Home For Professional Actors & Creatives