Robert Marchand – The Character Based Improvisation (CBI) Workshop
A five day fully immersive improvisation workshop for professional actors & directors.
Coach: Robert Marchand
The HubStudio is very proud to offer professional actors this 5 day intensive and fully immersive improvisation based workshop with one of the country's most accomplished improvisation teachers – Robert Marchand. Based on the work of film director Mike Leigh the CBI workshop is for those professional actors and directors who want to explore and create truly in-depth characters and immersive performance. The power of this series is learning the ability to grow a fully fleshed out character using your own impulse, history and intuition for improvised scenes. It's a must for any professional and its incredibly rewarding detailed work.
"Robert Marchand is a brilliant and innovative director whose passion and commitment shines through in his course. I learned so much over the past five days – and came away with invaluable techniques to use in the acting process. Please bring him back – we want more!! – Rebecca Davis 
An intensive, transformational 5 day experience for actors and directors. You will learn an in-depth method for creating films, immediate and invaluable tools for working with script and an approach to developing detailed, complex characters with ease like never before. Discover the very same techniques developed and used by revolutionary award-winning UK Director Mike Leigh (Secrets & Lies, Another Year, Vera Drake, Happy-Go-Lucky, Mr. Turner).
It is open to any professional actor/director/filmmakers aged 18+ and is a one of a kind workshop that enables both actor and directors to develop and experience the process for themselves, under the expert guidance of AFI award-winning Robert.  Not only will they learn a powerful, in depth method for creating films, they are also handed invaluable tools for working with scripted material immediately.
Of benefit to the actor:
Re affirmation of the actor as artist

Ownership of character 

Improving communication with the director

Adding depth and complexity to the performances

Channelling spontaneity

New perspective on texts

Added tools when preparing for auditions
Of benefit to the director:
Improves communication between actor and director

Showcases tools for finessing performance

Demonstrates how improvisations can deliver results

Explores the unexpected as a dramatic tool

Shows how to add detail to scripted material

Provides a new approach to script development

Assists with auditions and casting
"Participating in Rob Marchand's Mike Leigh workshop was one of those  inspiring experiences that stays with you. The course offers an insightful overview of Leigh's methods and practical exercises for the participants to investigate the principals of the process. Whether you are planning to create work from scratch or you just want to expand your skills in exploring and creating character, using improvisation and generally working closer with actors in the realisation of your work, this is an invaluable workshop.  I highly recommend it." – Kate Woods ( Dir: Looking for Alibrandi)
About Robert Marchand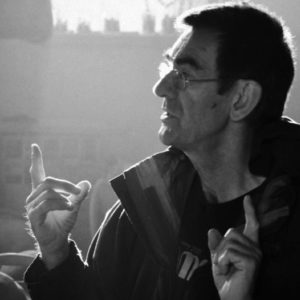 Dr. Robert Marchand is an award-winning Australian film director with over 25 years experience. He is also a writer and lecturer, and a mentor to emerging filmmakers. His credits include the television mini-series Fields Of Fire, Come In Spinner, Sun On The Stubble, Kangaroo Palace and The Potato Factory; most recently he directed The Lost Tools of Henry Hoke, a 21-part miniseries for the ABC. For his past work he has been awarded four Australian Film Institute Awards and has also received Logie, ATOM & Penguin awards and nominations.
Robert is hailed as Australia's foremost expert in the Character-based Improvisation Process. In 1993 he created the foundational CBI Workshop at AFTRS (Australian Film, Television & Radio School). His teaching has expanded and evolved since then; he has now directed over 100 workshops for actors, filmmakers and writers across Australia and overseas: most recently he conducted workshops in Britain, Croatia, Vietnam and New Zealand – this year he was brought in to run a bespoke workshop for actors and directors through the DEGNZ. He has created workshops for writers at NIDA and for filmmakers at the VCA.
The workshops have also been an integral part of the Flinders University Drama Centre program; a director's variant was included in the Grad Dip program at AFTRS  and his master classes have been featured at the ADG Conference; SPA Fringe Conference; and at the AFC's IndiVisions initiative.)
Session Details
What: 5 x Full Days
Dates: Friday 10th – Tuesday 14th March 2017
When: 9.30am – 5pm each day
Where: 18 City Rd, Chippendale
Students: 12
Cost:  $700.00 Members  /  $765.00 – Non-Members (Payment in two instalments available)
How to Apply
Please send an expression of interest including your  C.V. to courses@thehubstudio.com.au or use the below form. Please note the course is by invitation only. If accepted we shall send out an application form with all the course information. Notification for acceptance will be made no later than one week before course commencement.
If offered your place will only be held once payment is received in full. Failure to do so will forfeit your place on the course.
For more information or queries please don't hesitate to call on (02) 9212 0522 or alternatively email us on the above address.