Actors 2 Actors & The HubStudio presents:

'BOOK IT'
A Two Night Intensive Workshop about Commercial Castings
'Book It' is a two night intensive workshop geared towards booking commercials (some principles will extend to tv and film) through sharing invaluable knowledge and experience with newcomers, as well as artists from other disciplines e.g. Models, Dancers etc
Actors to Actors and the HubStudio presents this unique workshop with Arka Das & Ezekiel Simat, where participants will have the opportunity to gain valuable knowledge and practical experience which will serve you in a real life casting environment. It will also include a special guest Q&A and an interactive activity with a leading casting director.*
*Guest Casting Director TBA
This workshop will cover:
Learning how to manage individual castings for FEATURED/HERO/100% roles

Learning how to manage group castings for FEATURED/HERO/100% roles

Learning how to harvest your strengths, skills and manage your weaknesses in relation to auditioning.

Developing improvisational skills specific to commercial castings.

Building an improv toolbox for practical use in ANY casting environment (tv, film, theatre or commercials)

Working with and analysing real audition briefs (including assessing usage and fees)

Learning and understanding the complete process of a TVC/project and how 'you' end up in a room with the casting director.

Practical experience performing 100% and Featured auditions to get you ready for the real thing.

General Do's and Dont's for the casting environment.

Creating a safe environment for you to play, without the pressures of a real life casting environment.

How to communicate effectively with the casting director in the room

Expert tips and Q&A with a leading commercial casting director.
Apply Now
COURSE OUTLINE
Day 1 – Monday December 5th
Will cover the following:
Check-in/introduction – assessing your level of experience; and offering tailored levels of the program.

What is a TVC: what's the purpose and how do you fit in?

What is a casting: How are you selected by a casting director to audition?

What control do you have over the outcome, and how can you improve your chance of booking?

How do you work with your script?

What if you're nervous?

Listening

The value of Improvisation in a casting.

Generals do's and don'ts
Day 2 – Tuesday December 6th
Check in and answer questions from/about session 1

Casting director/Special Guest Q&A

Interactive session with Casting Director

Pre-assigned auditions for leads and support role briefs.

Feedback session and wrap-up.
Course Facilitators
Arka Das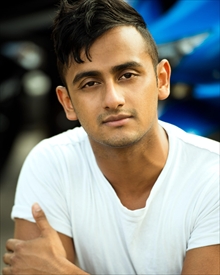 Arka Das began acting in 2003 and made his debut with the Ensemble Theatre in 2010 starring in Animals Out of Paper, which he was nominated for Best Newcomer at the Sydney Theatre Awards. He moved on to work in television and starred as Farid in the critically acclaimed ABC (Aus) series The Code and has since starred in the supporting lead role of TK alongside Tannishta Chatterjee and Brett Lee in the Australian feature film 'UnIndian', a selection at the Montreal World Film Festival 2015.
He recently completed work on highly anticipated SeeSaw Film's feature, 'LION', opposite Dev Patel, Rooney Mara & Nicole Kidman. Other credits include roles on upcoming Australian feature films, 'Down Under' directed by Abe Forsythe and a screen adaptation of Helen Garner's bestseller ' Joe Cinque's Consolation'.
Arka is currently filming on season two of Emmy award winning series 'Top Of The Lake' by Academy Award winning writer and director Jane Campion. Arka is also a writer and director, with webseries content and short films under his belt. He cocreated, directed and starred in comedy web series 'The Casuals', an official selection at the Hollyweb Festival in Los Angeles 2015. Arka continues to create diverse and exciting content for TV & film.
Ezekiel Simat
Ezekiel Simat, moved to Sydney in 2014 and entered the commercial game strong. He was flown to New Zealand to feature in an international Samsung campaign in the same year.
Following this, he was the face of two back to back Subway ads which played through the Superbowl broadcast in Australia, the NRL & AFL grand finals. and currently is a face  of the Telstra 'Entertainment Bundle' campaign; with a few other appearances in between.
In 2015 he started working on feature films, playing the role of a monk 'Bodhi' in Damaged (2015), American Teen 'Leo' with Wolf Creek's John Jarratt in Frenzy (2015), and Aussie Footballer 'Eric' alongside Matrix Trilogy's Anthony Brandon Wong in Pete Murray's acting debut film, 'Thicker Than Water' (2015).
Late 2015, he signed to Morrissey Management and made his stage debut in Andrew Henry's production of A Girl With the Sun in Her Eyes, at the Old Fitz Theatre, with an exciting turn as a Chicago-born teenager, Darnell.
An accomplished model, Zeke has shot internationally, walked for leading designers at home, and appeared in a wide range of print campaigns & magazines in Australia and Internationally. Including his current spread, as one of Cosmopolitan's Top 30 'Bachelors of the year'.
Session Details
When: Monday December 5th & Tuesday December 6th
Cost: $175.00 pr person
Time: 7pm – 10pm
Venue: 18 City Rd, Chippendale, NSW 2008
Participants: 15 Max
How to Book
To book please click here. For more information or queries please don't hesitate to call on Arka on 0432 015 744 or alternatively email us at actorstoactors@gmail.com .