Donald Woodburn – The Targeted Voice
A very special one day voice program for professional actors.
Teacher: Donald Woodburn
The HubStudio is very pleased to welcome Donald Woodburn current lecturer in Voice at the Western Australian Academy of Performing Arts (WAAPA) for this special one day master class. Donald is an extraordinary voice teacher with a unique perspective on vocal studies. Originally from South Africa, Donald has taught in several countries around the world focusing on native vocal self expression and the influence culture has in effecting the performers voice.
Structurally similar to the work of Declan Donnellan's 'targeting', Donald's workshop will focus on the ability to specifically target the voice through spacial awareness techniques, utilising a very specific set of skills to give each actor a grounded, fuller, warmer, more connected voice that can carry a large theatre or hit a specific target with impact and vibrancy. It's essential work for those professionals looking to learn the true power of their own passionate voice; the ability to unleash it or control it like a laser.
"I believe that in moments of heightened passion we express ourselves more essentially. I also believe that theatre & film operate in the realm of heightened passion and practitioners in these fields must therefore understand how to access 'the passionate voice'" – Donald Woodburn
Donald's work is constantly informed by his observations of natural vocal practice in confident outspoken cultures, as well as heightened communication moments in contemporary Australian culture. Observation of people's daily 'story telling' keeps his ear tuned to the contemporary 'rules of communication' and gestural expression as a fundamental component of speech.
Areas of Focus:
Breath

Targeting

Volume/Passion in Proximity

Gravity 101

The Sphere of Influence

Speaking from a flexible alignment
Please note this series is invite only, with the highest standard being sort, a place on the course is not guaranteed. To apply please send us your latest headshot and CV. 
The HubStudio is very proud to offer About Donald Woodburn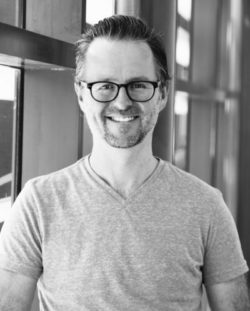 In 1996 Donald studied voice at NIDA. In 2010 he commenced employment at WAAPA where he currently works as a full time lecturer of voice in the Acting, Aboriginal Theatre Studies, and Music Theatre Departments. He also works part-time at The Actor's Hub in Perth. In broadcasting his clients include Fox Sports and Fox Sports News and has done intensive voice training work with notable international broadcasting clients Aljazeera English and MTV base. In Perth he has worked as a voice trainer in the broadcast environment with Channel 7, Channel 9, the ABC and 6PR.
Outside of the entertainment industry he runs voice training sessions for professional speakers in vocally demanding fields such as education, politics, law and the corporate sector.
Before moving to Australia Donald was Head of Voice at The South African School of Motion Picture Medium and Live Performance (AFDA). He also taught voice across 19 radio stations and 4 television channels at the South African Broadcasting Corporation (SABC) to presenters, journalists, anchors and DJs. He ran voice workshops and individual training with other independent national and regional South African TV and radio broadcasters, as well as teaching at the The Electronic Media Institute of South Africa. Donald majored in acting at the Wits School of Arts and on graduating worked as a freelance actor and director with the Performing Arts Council of the Transvaal. 
Qualifications
Certificate IV in Training & Assessment, Edith Cowan University, 2013.

Graduate Diploma of Dramatic Art in Voice Studies, The National Institute of Dramatic Art, 1996

Bachelor of Arts in Dramatic Art, School of Arts at the University of the Witwatersrand, 1993.
Session Details
When: 1 x Saturday
Dates: 27th August 2016
Time: 10am – 5pm
Venue: 18 City Rd, Chippendale, NSW 2008
Participants: 14
Cost: Members: $148.00 incl GST  /  Non-Members: $165.00 incl GST
How to Apply
Please send an expression of interest including your C.V. to courses@thehubstudio.com.au or use the below form. Please note the course is by invitation only. If accepted we shall send out an application form with all the course information. Notification for acceptance will be made no later than one week before course commencement.
If offered your place will only be held once payment is received in full. Failure to do so will forfeit your place on the course.
For more information or queries please don't hesitate to call on (02) 9212 0522 or alternatively email us on the above address.