Course Overview
This eight-week theatre acting series is designed for actors who are serious about gaining detailed insight and practice into Kevin's Creative Habit Technique. Kevin will delve into script analysis, character development techniques and detailed grammatical work, changing your professional mindset and lifting your focus, forcing you to be the best artist you can be. The course will begin with a focus on Chekhov in order to benefit from the Chekhov/Stanislavsky relationship, which is the keystone of all approaches to acting for the Western Canon. The focus will then shift to focus on a classic contemporary play.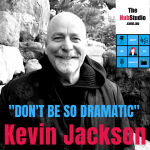 LISTEN NOW : Kevin Jackson on Hub Podcast "Don't Be So Dramatic"
Course Outline
Over the eight weeks each participant will work on various scenes for the group, being directed by Kevin, looking at the following areas:
Personalisation

Linear Work – punctuation, grammar & use of language

Deep Text analysis

Character work & analysis

Use of physical space to inform character & story
Course Outcomes
Development & practice of craft lie at the core of the Masterclass:
Stronger ability to understand the complexity of classic plays and confidently approach the text.

Exercise and development of acting 'muscle'.

Greater awareness of writers and plays in the cannon

Understanding and implementation of the Creative Habit.

Ability to greater analyse, punctuation, beats, & rhythms of text

Increased awareness and spirit around the true artistry of acting.
Session Details
When: 8 x Monday evenings 
Dates: 9th August – 27th September 2021  
Time: 7pm – 10pm
Venue: 18 City Rd, Chippendale, NSW 2008
Participants: 12 Maximum
Price: $495.00 incl GST (10% off for members)
Payment Information
How To Pay & Instalment Option: The easiest way to pay is by Electronic Funds Transfer (EFT) using the bank details on the invoice (please quote the invoice number in the transfer information), or by simply clicking the 'pay online' link also on the invoice (bank fees apply). You will be email an invoice upon acceptance into the program. Payment is due no later than the due date stated on the invoice, however if you would like to pay in instalments please call or email the office to arrange the dates and amounts you will pay. Please note full payment of the course is due by the time the course finishes. You can start payment instalments at anytime upon receipt of the invoice.
About Kevin Jackson
Kevin Jackson is one of the country's most experienced acting teachers. In 2011 he retired from the National Institute of Dramatic Arts (NIDA) after more than twenty years service to the school, and in the process trained some of the most prominent and emerging actors in the industry today. For more than fourteen years Kevin also taught at the American Conservatory Theatre (ACT) in San Francisco, and more recently at The Actors Center in Sydney and now at The HubStudio. Graduates Kevin has taught during his time at NIDA include, Baz Luhrmann, Richard Roxburgh, Jacqueline McKenzie, Miranda Otto, Cate Blanchett, Essie Davis, Nicholas Bishop & Sam Worthington.
Read Kevin's Full Biography
Apply For The Course
Please send an expression of interest including your C.V. to courses@thehubstudio.com.au or use the below form. Please note the course is by invitation only. If accepted we shall send out an application form with all the course information. Notification for acceptance will be made no later than one week before course commencement.
If offered your place will only be held once payment is received in full. Failure to do so will forfeit your place on the course. For more information or queries please don't hesitate to call on (02) 9212 0522 or alternatively email us on the above address.
Course Application Form
IMPORTANT INFO!! We are experiencing some unusual issues with our forms from time to time. If your form isn't sending through please email the same information, including your CV and Headshot via email to courses@thehubstudio.com.au and we'll get back to you asap. OR call 02 9212 0522.
Contact Us
For further questions or queries please contact us directly during 10am – 5pm / Monday – Friday on the below details:
Our office and studio is located across from Victoria Park and the Broadway Shopping Centre in Sydney's Chippendale. For best parking and travel options please click here.
Further Questions
The HubStudio prides itself on helping professional actors to facilitate their training journey. If you would like more information about this course, or more importantly which courses would suit you best, then please email or call us to discuss your training goals.