Course Overview
Inspired by the work of Mike Alfreds and his rehearsal process (outlined in his extraordinary book – Different Every Night) we will explore A Streetcar Named Desire by Tennessee Williams over 8 weeks. We will focus on several scenes in the play and use that as the foundation and framework for us to dive deeply into TEXT, CHARACTER, and THE WORLD OF THE PLAY in an ensemble environment.
Mike Alfreds' process has brought together the best elements of Stanislavski, Michael Chekhov, Viola Spolin, and Rudolf Laban (to name a few) to create a whole new way of rehearsing a play so that it can truly come alive and be… Different Every Night. The processes are a wonderful balance of specific exercises and instinctive improvisations that are designed to help the actor anchor deeply and viscerally into the given circumstances of the play – this ultimately gives the actor a tremendous amount of confidence and freedom with the text. They no longer need to seek safety in the rehearsed blocking nor control every moment and emotion, which can strangle the life out of the acting and the play. Instead, they are free and alive to the immense possibilities of each moment (while absolutely honouring the world of the play). It is similar to watching a great ensemble of improvised jazz – the play can go in any direction and it is thrilling to experience.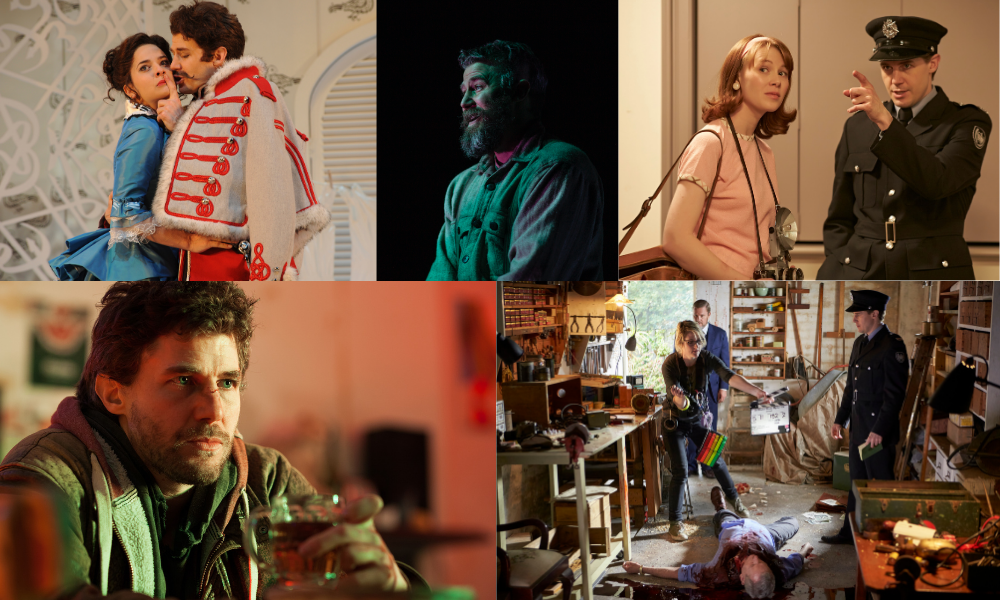 Course Outline
Over the 8 weeks some of the major processes we will work on are:
Actions – how to clarify and sharpen them, how to land and sustain them, and how to broaden and deepen our creative palette of choices.
Objectives – how to identify and truly connect with them, how to deeply embody and live with them, and how to place all of our attention and needs on our fellow actors/scene partners.
Obstacles – how they enrich the performance and make the objectives much more specific, complex and crucial.
Character Lists – making sure the character is built up from a solid foundation of facts.
Script Analysis – how to identify and breakdown a script into key events that shape a scene.
Feeding-in – a process of slowing down and stretching out a scene so that the actor can dare to be braver, and truly play and discover in the moment.
Specific Improvisations – where we get to uncover and explore the world of the play and learn of its specific rules and conventions that make up this particular reality.
Points of Concentration – a process of applying the given circumstances to the action of the play. It gives the performance richness of texture, complexity and resonance. Whole new worlds of possibilities open up with how the moments and scenes can be played.
Course Outcomes
Through working with Charlie and this process you will learn, develop, and integrate a grounded tool-kit that will open up your craft and career.
You will have developed more inner trust and confidence in how to build a character up from the ground of facts (that the playwright gives you) and then to bring it to transformational life.

 You will have explored the world of the play in lots of dynamic ways which will anchor you much more deeply to the circumstances of the play.

And you will have experienced the scenework in a variety of versions which will help free you from the idea that 'there is only one right way of playing it.'
Session Details
When: 8 x Thursday evenings
Dates: 6th May – 24th June 2021
Time: 7pm – 10pm
Venue: Room 6 Siteworks / 33 Saxon St Brunswick VIC 3056
Participants: 14 Maximum 
Price: $389.00 incl GST (10% off for Hub Members)
Payment Information
How To Pay & Instalment Option: The easiest way to pay is by Electronic Funds Transfer (EFT) using the bank details on the invoice (please quote the invoice number in the transfer information), or by simply clicking the 'pay online' link also on the invoice (bank fees apply). You will be email an invoice upon acceptance into the program. Payment is due no later than the due date stated on the invoice, however if you would like to pay in instalments please call or email the office to arrange the dates and amounts you will pay. Please note full payment of the course is due by the time the course finishes. You can start payment instalments at anytime upon receipt of the invoice.
About Charlie Cousins
A graduate of WAAPA (Acting), Charlie is an actor, director, and educator with over 20 years experience working in theatre, film, and television.
Charlie's television work includes the regular role of Charlie Davis in The Dr Blake Mysteries, The Mystery of A Hansom Cab, Winners & Losers, City Homicide, Blue Heelers, Marshall Law, MDA, Beastmaster, and The Lost World.
Charlie's Theatre credits include Sydney Theatre Company's Arms and the Man directed by Richard Cottrell, the Helpmann Award winning production of Thursday's Child for Monkey Baa Productions, Cosi (Lewis) and The Crucible (John Proctor) for The Complete Works Theatre Company, Pains of Youth for Malthouse Theatre and The Artisan Collective, Our Country's Good for Group Theatre Productions, The Drowned World for The Storeroom, A Respectable Family for Chambers Theatre Co., Much Ado about Nothing for Bell Shakespeare, and Young & Jackson for Harrison Productions in conjunction with Steady Lads Pty Ltd.
His film credits include the award winning short film Blackwood, Last Ditch, and the Warner Bros. Pictures feature 'Scooby Doo'.
In 2018 he launched his theatre company, Hearth Theatre and produced, co-directed, and starred in Danny and the Deep Blue. Hearth Theatre's second production was Marriage by Nikolai Gogol.
Alongside his acting teaching, he is also a qualified life coach and meditation teacher, mentoring and supporting practitioners and industry leaders to navigate their way with their craft and careers with more resilience, ethical authenticity, and generosity of spirit. A passionate life long learner of the craft he has also studied under Mike Alfreds, Patsy Rodenburg, Larry Moss, and Ian Rickson. He specialises in teaching Mike Alfreds and Uta Hagen's work. And is deeply committed to carrying on their legacy and creating theatre that truly lives and is transformational.
Apply For The Course
Please send an expression of interest including your C.V. to courses@thehubstudio.com.au or use the below form. Please note the course is by invitation only. If accepted we shall send out an application form with all the course information. Notification for acceptance will be made no later than one week before course commencement.
If offered your place will only be held once payment is received in full. Failure to do so will forfeit your place on the course. For more information or queries please don't hesitate to call on (02) 9212 0522 or alternatively email us on the above address.
Contact Us
For further questions or queries please contact us directly during 10am – 5pm / Monday – Friday on the below details:
Our office and studio is located across from Victoria Park and the Broadway Shopping Centre in Sydney's Chippendale. For best parking and travel options please click here.
Further Questions
The HubStudio prides itself on helping professional actors to facilitate their training journey. If you would like more information about this course, or more importantly which courses would suit you best, then please email or call us to discuss your training goals.